Lydia Schiavello Style Crush
We've loved watching the evolving style of Lydia Schiavello, from the Real housewives of Melbourne (RHOM), since the show first aired in 2014.  Her sassy personality and contemporary wardrobe is the reason she is our latest style crush.
At 45 she is married to Australian architect and CEO of Metier 3. Lydia has a passion for interior design and completed her degree at RMIT University.
The loss of her son at birth when she was 21 made an enormous impact on Lydia and she proudly donates her entire pay cheque from the TV shows, RHOM, to the Royal Children's Hospital.  Lydia is also dedicated to her charity work and is the ambassador to The Shane Warne Foundation, which distributes the funds they raise to a wide range of causes, which supports many childrens' charities.
On the RHOM,  Lydia is often seen in clothing by Australian designers such as Scanlan Theodore, as well as International designers Dolce & Gabbana, Dries Van Norton and Rick Owens. Her style is best described as contemporary, modern and she loves muted and neutral colours, which work beautifully against her dark hair and eyes and olive skin thanks to her Italian heritage.
Lydia also knows how to dress for her body shape and her dress choices always show off her height and gorgeous long legs. Lydia looks equally fabulous in knee-length skirts as she does tricky midi length style thanks to her long pins. For shoes she chooses high heels (as do all the ladies from RHOM) and prefers those featuring a platform. However she is can also be spotted in high heel peep toe boots and lace up sandals.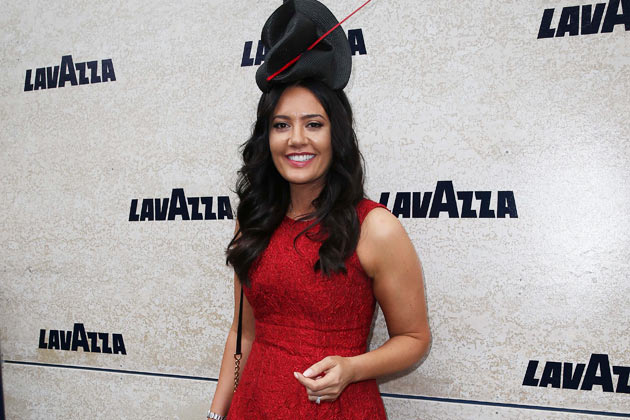 When it comes to dresses, the RHOM star can also be seen in dresses, preferring figure hugging or contemporary silhouettes. She also has a preference for high neck tops and her amazing bone structure and cheekbones allow her to get away with wearing boat neck and round necklines.
And she wouldn't be a ROHM without the dazzling jewellery and statement accessories.
We hope to one day have a peak 'In Her Closet'.  We'll keep you posted! (Shop Style AND Tonic story below)
Shop Style AND Tonic
Sunglasses| Boots | Drape Top | Pants by Joseph